How to successfully market women's health services such as women's intimate health, bioidentical hormones, urinary incontinence treatments and more!
If you are an OB/GYN, Urologist, or offer services such as MonaLisa Touch, Viveve, Diva, ThermiVa, Core intima, Votiva, Femilift, FemTouch, EmSella, BioTe and have struggled to get patients for these treatments, you're not alone. There are thousands of doctors across the country who have invested in these devices but don't have a women's health marketing plan or a marketing team in place to raise awareness in your practice and in your community. The result? Monthly payments on devices, but not enough patients to cover the cost.
Women's Health Marketing Plan
It's not enough to just be a great doctor, in order to attract more patients to your office, you have to be known as the go to expert in your specialty. We know that patients don't randomly change doctors. They change if they think another provider has more expertise, better equipment and provides an overall better experience. You have to make it known - that you have the extensive training, the most experience, the friendliest staff or best technology and can ultimately get them the best results.
That's really the key to attract qualified, pre-educated, patients for your practice.
This is especially critical if you're a doctor who does any kind of cash services. There are thousands of women who are looking for these exact treatments, but don't know you offer them. And let's face it, there is a lot of competition, so you have to stand out as the leading provider in your community, and you can only do that through marketing.
You need a Marketing Blueprint to engage with your patients, stand out in our community and grow your business.
Wrong Ways To Approach Women's Health Marketing:
👎Only relying on your website to bring you new patients
👎Waiting to talk to patients during their annual exam
👎Just handing out brochures
👎Another expensive magazine/newspaper ad that gets no results
👎Not another event where no one shows up
👎Relying on your staff to do all of the marketing
👎Not a marketing company that is clueless about this niche
Learn the Dr. Marketing Blueprint for Women's Health Services:n this free women's health marketing training, you'll learn:
Medical Marketing Whiz has put together a free training to help women's health physicians learn how to market these treatments the right way. In this free marketing training, you'll learn:
The Dr. Marketing Blueprint for marketing OBGYN and other women's health services

​Social Media Marketing for Doctors: How to attract more of your ideal patients & which social media platforms are best for your target market

Patient Events & Webinars: How to educate your patients and be seen as the local expert through events & webinars

How to generate referrals from both doctors and patients

​​THE ONE THING you could be overlooking that's impacting your results
Register for the social media training here ---> https://info.medicalmarketingwhiz.com/womens-health-marketing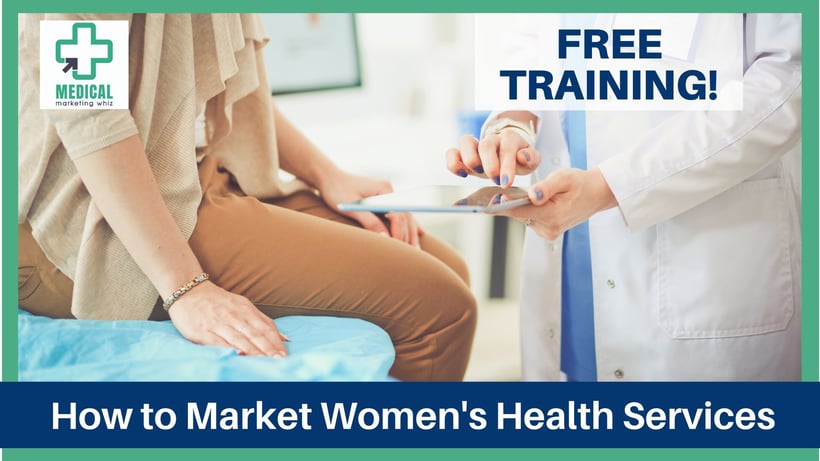 Bonus! Get our Free E-Book on How to Market Women's Intimate Health devices
If you'd like to get a quote on our done-for-you women's health marketing program, simply schedule a call with us! You can schedule a call at a time that's convenient for you here: https://info.medicalmarketingwhiz.com/meetings/glenn36/marketing-strategy-call
OBGYN Medical Marketing Experts: 888-418-8065