Why Patients follow their Doctor on Facebook & Instagram
Doctors looking to grow their medical practice by improving their social media marketing often ask us this is a question. The short answer is that the best strategies for creating any engaging Facebook and Instagram posts also apply to doctors' medical practices just as much as any other business. Make your social media posts relevant, personal, educational and fun!
When you create Facebook & Instagram content that makes your practice worth following, you introduce your team and culture to more potential patients, and you build relationships with current patients. This helps you boost patient retention and attract new patients to your doctor's office.
5 ideas for fun Facebook & Instagram posts for doctors
1: Show Off a New Piece of Equipment on Facebook & Instagram
Most people who visit your office have no idea what all the different devices, lasers, and diagnostic tools in the office are for. Create an interesting and educational medical Facebook or Instagram post. Show a picture of the device and briefly explain how this piece of technology helps you better serve patients! Here's an example of a Facebook post from one of our own doctor clients: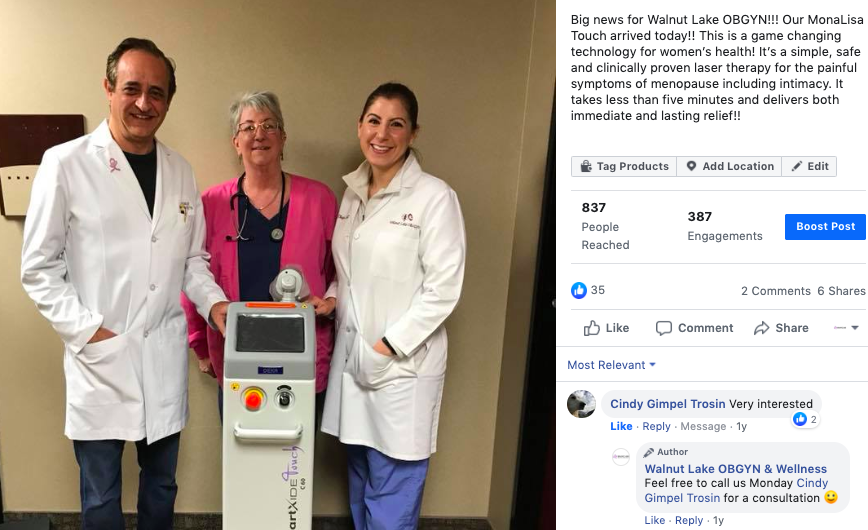 2: Post a Team Photo on Facebook & Instagram
We've seen that a great way for doctors to kickstart engagement with your medical or aesthetic Facebook & Instagram posts is to include a photo of your team! It gives your followers and potential patients a look into your practice culture and helps them connect with you, as their doctor, on a personal level. Use our Social Media Selfie Signs! Tag your team members in the photo and upload it to Facebook and/or Instagram! We love how the team at this doctor's office did it: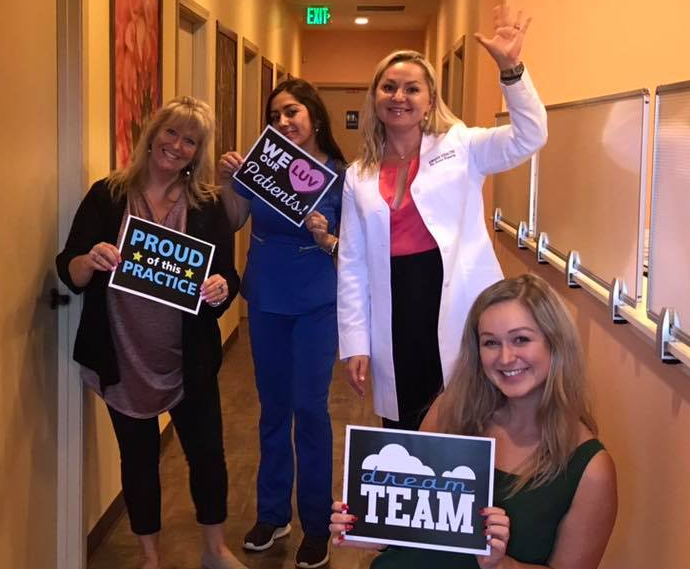 3: Create a Two-Minute Office Tour Video on Facebook or Instagram
Show potential patients how welcoming and comfortable your practice is by taking them on a quick virtual tour of your doctor's office! One of the best tools you have for your social media VIDEO!. You can do a Facebook Live or pre-record a video on your phone. This one from Doctor Jill Fischel atTransformative Dermatology is a great example: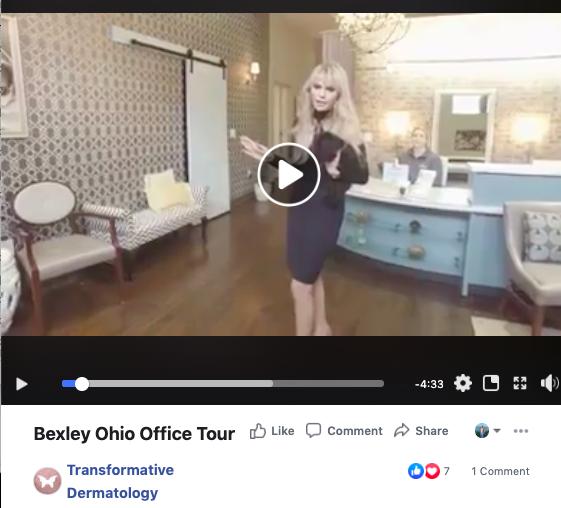 4: Recognize employee birthdays & work anniversaries on Facebook & instagram
Publicly recognizing your staff is a great way to let the world know you appreciate the hard work they put in day in and day out at your doctor's office. These posts also get lots of engagement with likes, comments and shares. We love how this doctor's office uses staff recognition as a way to offer a special promotion to their facebook & Instagram followers as well!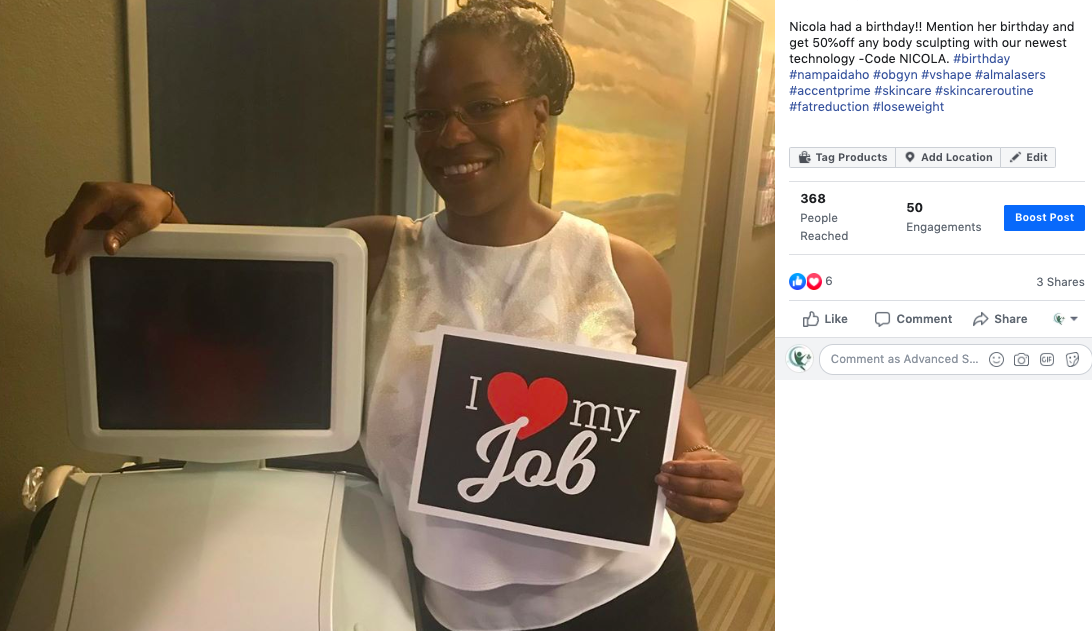 5: Host a Give-a-way on Facebook or Instagram
Ask your Facebook fans or followers to comment or answer a question or share their photo or experience to enter to win a special gift, such as samples of a new product, goody bag of products, or gift certificate.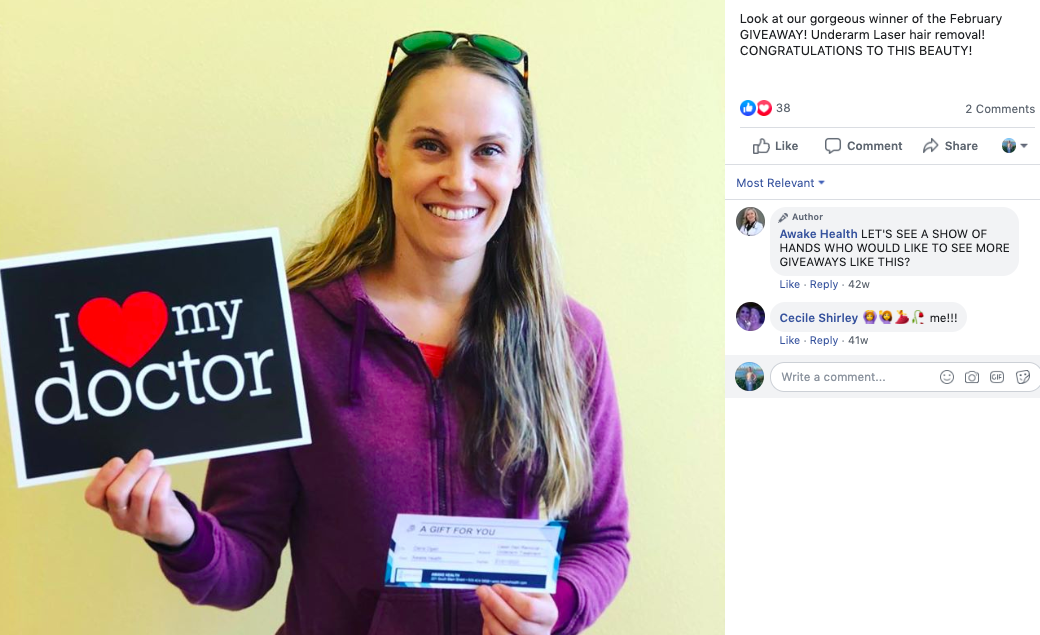 Being active on Facebook and Instagram is one of the best ways for a doctor to strengthen relationships with patients after they've walked out your door - as well as to attract more new patients to your practice. If you can create Facebook & Instagram content that your patients want to share with friends and family, there is a high probability of converting those new eyes into patients.
Your social media efforts should focus on providing value to patients — it could be by teaching them something new about women's health, skin care, healthy living, or just simply making them smile! By getting creative with your team and considering patients' needs, you can turn even the simplest medical Facebook or Instagram post — like a reminder to get your annual exam— into a showcase of your team and practice culture.
We Help Doctors with Facebook & Instagram
Tired of searching endlessly for something interesting to put on Facebook or Instagram? Medical Marketing Whiz specializes in social media marketing for medical and aesthetics offices and we know how to use social media in a way that is proven to grow your business.
Our done-for-you social media marketing services are designed to give you a consistent feed of educational, inspirational and personal content that will make fans want to interact with you. Request a consultation today! You can also learn more about how doctors should market on social media in our Social Media 101 and Instagram 101 free training!
Medical Marketing Whiz is unlike any other marketing agency because we are the experts in marketing doctors. If you are a doctor who is interested in Facebook, Instagram, or other social media marketing, we can help.
Doctors' Facebook & Instagram Specialists:

888-418-8065

.