"How do I book more patients / clients for Tele-Visits or Virtual Consultations during social distancing?"
During social distancing, many doctors and aesthetics clinics are turning to video consults to continue to serve patients and generate revenue. Marketing is a key component for keeping a steady stream of virtual consultations on the schedule. Plus, you need to develop some packages that can be done at home, or have patients put down deposits for future appointments. Medical Marketing Whiz has been working with clients to implement some clever ideas to market tele-health and virtual consultations that we wanted to share!
Here are 5 ideas to book more virtual consultations that you can start this week:
1: Make it known you're doing virtual consults
Make sure you've covered all of your bases when it comes to marketing your virtual consultations. This includes:
Add to the homepage of your website
Add under Services to your Google My Business and Facebook
Pin the Virtual Consults post to the top of your Facebook page
Send an email blast about virtual consults to your existing patient list. Be sure to include reminders in your monthly email newsletter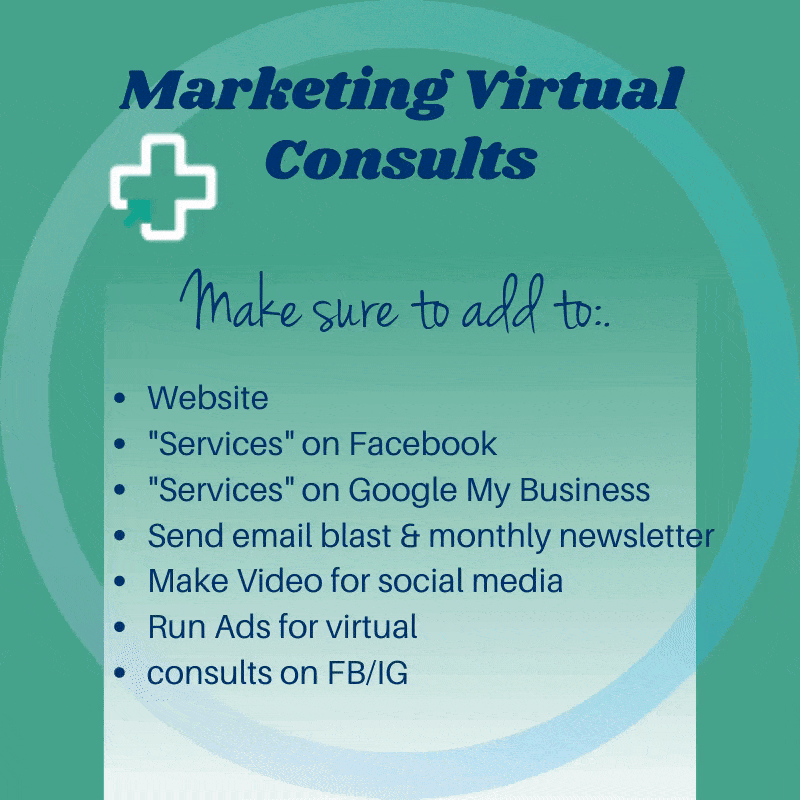 2: Take photos (or make a video) doing Virtual Consults
Take a photo of your provider doing a virtual consultation (or pretend to be doing one) and turn it into a video using Canva.com Or better yet, record a video of your doctor or aesthetician talking about how virtual consults work and what types of things they can do virtual consults for. See the post below that's getting 95% more engagement than the other posts on the page!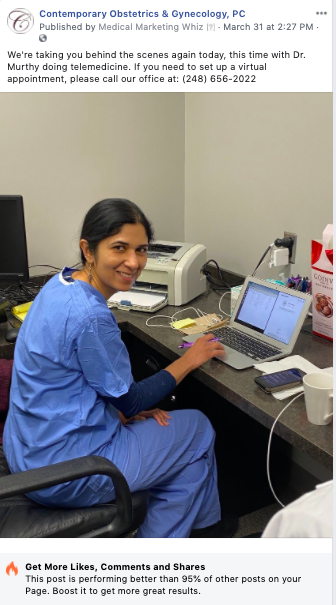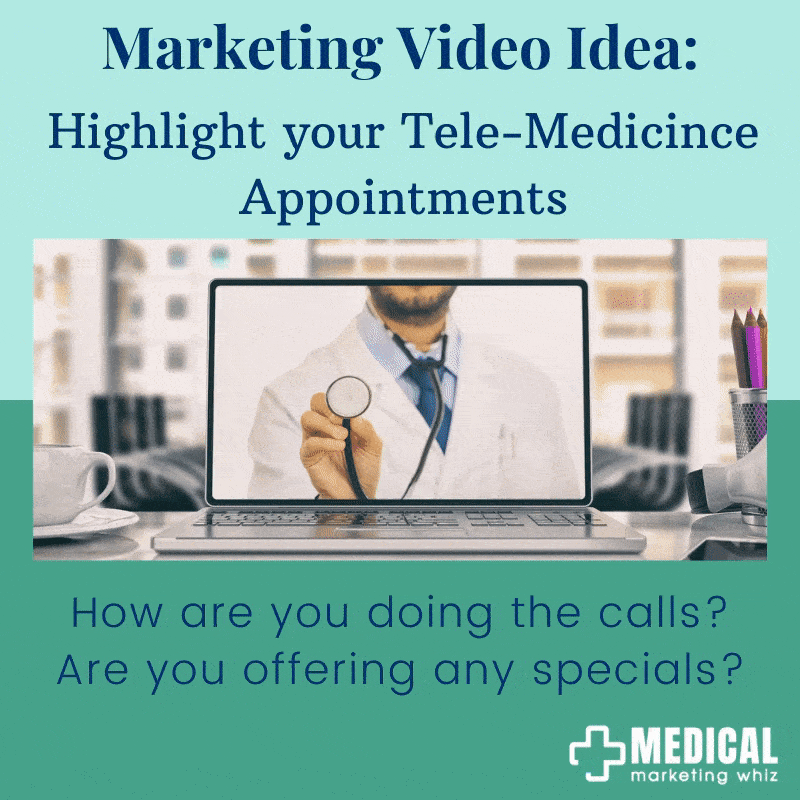 3: Record an Evergreen Webinar
WEBINARS have been proven to educate and attract high quality patients for health & aesthetics services. If you offer services such as: vaginal rejuvenation, urinary incontinence, erectile dysfunction, bio-identical hormones, weight loss, food intolerance, or body sculpting, this is the ideal way to reach patients, especially right now while they may not be able to come into the office and have time to learn about these services.


Want to learn how to host a webinar? Watch our free training that we did on 4/1/20 on our Facebook page!

4: Create "at-home" packages
Offer curbside pickup or free shipping for at home packages. Create kits for people to pamper themselves at home. The ZO Skin Health line has put together a "ZO to Go" Facial in a Box package.
Beauty & Blessing packages: Team up with another local business to make gift bags with a few products that can be delivered or sent to yourself, friends, or family.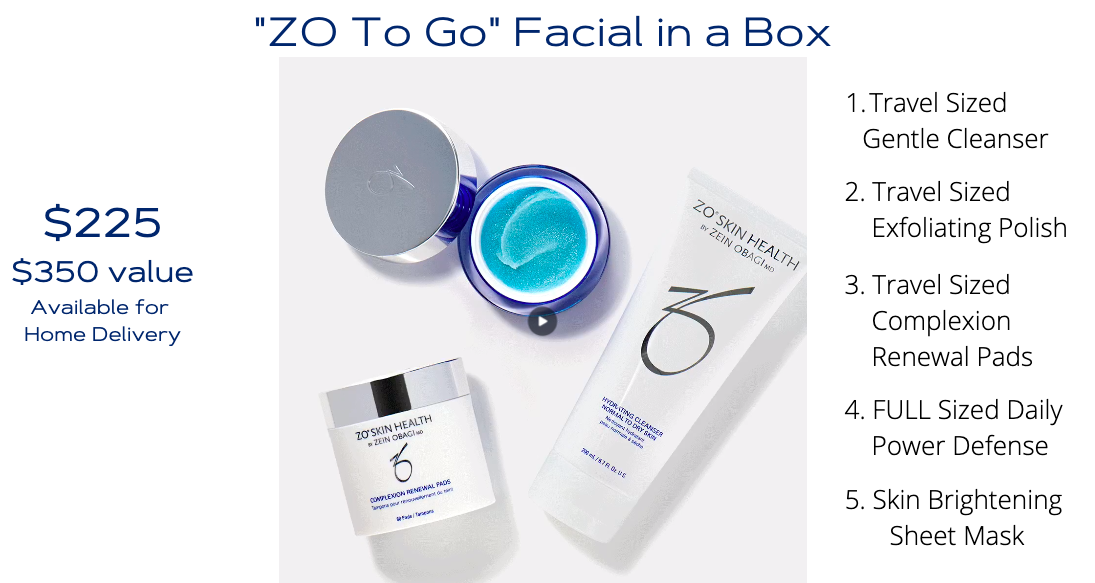 5: Create "30 Days of Distancing Deals"
Let your audience know that your team will remain available to people for purchases made over the phone, online, via virtual consultations. Use this idea to make available discounted services and gift cards that can be used at a later time. Ideas for 30 Days of Distancing may include:


Take home Peel kits that come with a free virtual consultation with an aesthetician
Facial in a Box kits
Bank your Botox, Xeomin, Dysport or Jeuveau for a discounted price
Free shipping on skincare products or nutraceuticals
Gift cards: Get $25 bonus for every $100 gift card purchased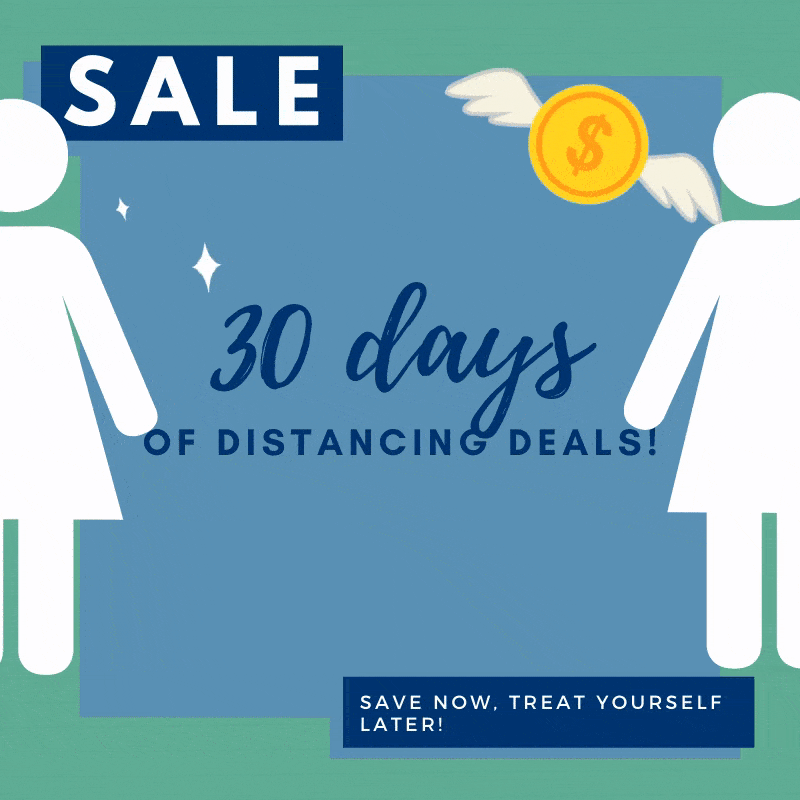 Want more ideas of what you can do to keep business going during social distancing?
Set up a call with Medical Marketing Whiz and we will do a free strategy session! We have limited spots available for free 1-hour strategy calls for FREE ($350 value). Select your day & time here --->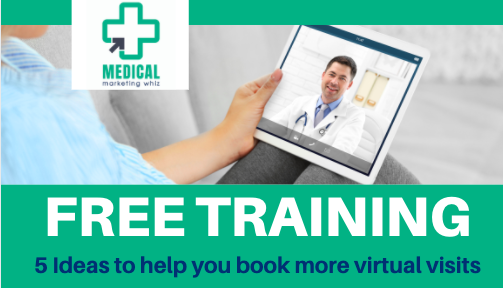 You can also check out our free training on how to book more virtual visits!
How to market virtual consultations
Facebook / Instagram ads for virtual consults
How webinars can help you book more virtual consults
At-Home Packages with Virtual Consults
Creating 30 Days of Distancing Deals
Open forum Q&A with our marketing experts
BONUS!
If you pre-register, you will receive 5 social media posts that will help you market your virtual visits!.
To register for the free training, CLICK HERE: https://info.medicalmarketingwhiz.com/more_virtual_consultations