Having a business Facebook page is now considered to be a fundamental part of medical marketing and establishing an online presence.. Social Media content needs to be posted regularly (YES, we mean daily!) in order for your page to be considered "active" and "relevant". But you have to also be compliant to protect your staff and also patient privacy.
As one of our monthly clients, Medical Marketing Whiz will be posting educational content on your Facebook page to raise awareness about your treatments and services that you offer. Our posts will include educational information about your lasers, injectables, and other services that you included on your Social Media Form during the on-boarding process.

To maximize the posts that your followers see on your Facebook page, you will need to help by keeping your Facebook page "Social". Do you want an easy way to create fun, personal posts? Download our free social media selfie signs and watch your engagement soar!
Let's review some important social media compliance action items that may help your practice.
Put a simple social media policy in place for your team, then train them. Download this

social media policy template

as a starting point.
Consider designating specific places in your practice for taking photos with your patients (see example image below). For example, find places where the lighting is good and where there's nothing in the background of photos that may violate someone's privacy.
Use a social media consent form. We have one

HERE

that you're welcome to download. If you decide to create your own, be sure it has the following six components: 1) what the patient is specifically authorizing, 2) the purpose of the authorization, 3) the ability to revoke the authorization, 4) an expiration date, 5) the opportunity to receive a copy, if desired, and 6) who, specifically, the patient is giving authorization to.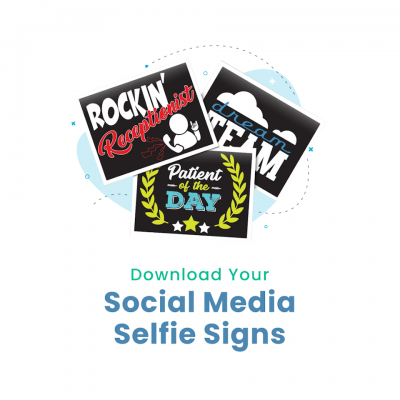 Want to learn more about social media marketing for doctors? Watch our free Social Media 101 training video!